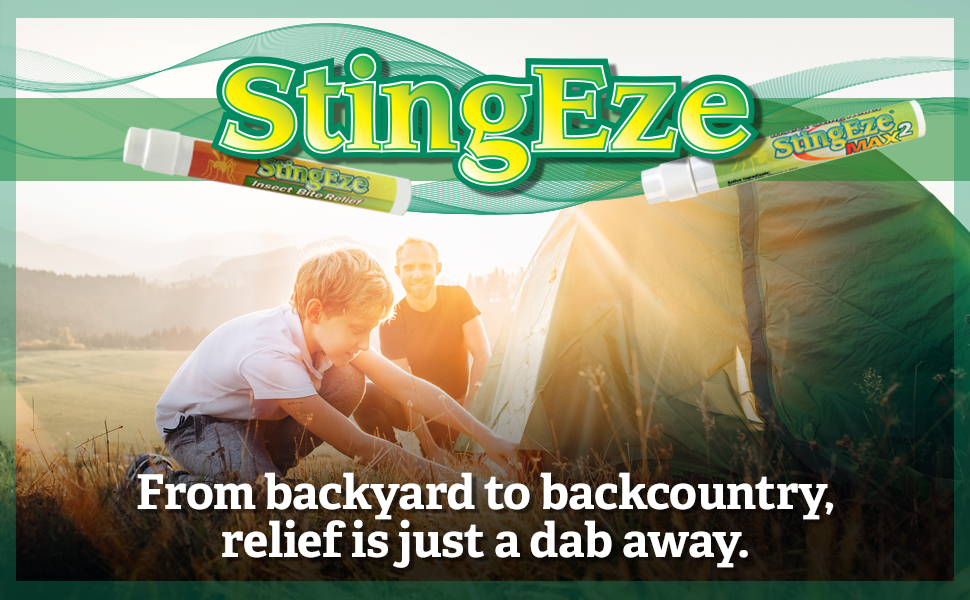 StingEze® offers fast, powerful relief from insect bites, stings and irritations using a triple action formula that stops pain, relieves itching and reduces swelling. In addition to our Original formula, StingEze® is available in Maximum Strength. Our family-friendly formulas are safe and effective for everyone – even the little ones. So, get outside and enjoy the outdoors with America's top performing itch-relief products.
The primary active ingredient in StingEze® insect bite relief products is the topical pain reliever Benzocaine and it also contains Camphor for added pain relief and Phenol for its antiseptic properties.
Benzocaine
A milder, more effective alternative to ammonia. It's commonly used in a variety of other skin care products like sunscreens and anti-itch creams.
Phenol
Relieves pain, kills germs and reduces the risk of infection
Camphor
Inhibits the growth of bacteria and provides a cooling effect
Propylene Glycol
An organic compound that helps prevent the skin from drying
My two-year-old daughter was playing in Grandma's back yard last night when she suddenly doubled over, clutching her leg and shouting. A wasp had crawled up her pant leg, and by the time I figured out what was happening and got it off her, it had stung her 5 times all along her leg. My parents had some StingEze® in their first aid gear, so I put it on the stings. My daughter stopped crying almost immediately, and two minutes later was acting as if she was in no pain at all. This morning her leg looks fine and you can hardly see where the stings were. I was very pleased with how effective StingEze® was. I'll be adding some to my medicine cabinet as soon as I can get my hands on it.
This product is the best in the world. It is great for any bug bite but the only thing that will take care of fire ant bite. If you place this on the ant bite right way the next day you will not have an infected bite. That is what you get if you don't treat it with StingEze® and it takes away the stinging pain right away. Our son-in-law is in the Army and is in Iraq right now and we have sent him some for his bug bites. This is the very best but sometimes hard to find. Walmart carries it in their sporting goods section but today we could not find it and it is very important to have here in Texas. Just thought you would like to know that you have a GREAT product. Thank you.