Coleman Outdoor Accessories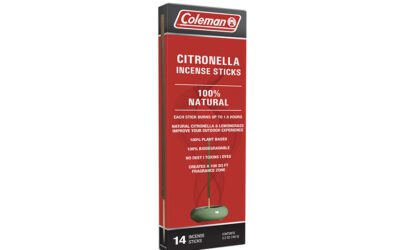 100% Natural incense sticks 100% biodegradable Each stick burns up to 1.5 hours and creates a 100 sq ft fragrance zone Made of citronella and other essential oils Provides ambiance and keeps nights peaceful Excellent for backyards, campsites, and picnic areas *Incense...
Campfires & Cooking
Always bring extra matches.
Waterproof your matches by dipping them in nail polish or melted paraffin wax.
Make campfires easy by starting preparations at home. Fill an old egg carton with dryer lint and bring it with you to the campsite. Place it under the dry twigs as you build your fire and use it as a fire starting "log".
Alternatively, purchase a fire starter and cut it into small pieces to get a number of campfires going out of just one log.
Soft woods like pine, cedar and fir are best for starting fires.
Rub the outside of your pots and pans with liquid or bar soap before cooking over an open fire. This will make the black scorch marks come off much easier.
Alternatively, cover the bottom of your pans in tinfoil to keep them clean.
Create easy packet meals in aluminum foil. Add sliced potatoes, a little butter, onions, carrots, and any other veggies you like, seal it, and roast it over the campfire for an easy & delicious meal.
Keeping Warm
If your socks are wet at the end of the day, sleep with them around your midsection to dry them out. This is much more effective than hanging them outside.
To help keep warm at night, fill your water bottle with boiling hot water, wrap it in a towel, and put it in your sleeping bag before you get in.
Sleep in a hat to help keep warm at night. 80% of body heat escapes through your head.
Dress in layers so you can easily add or remove clothing depending on the weather.
Pack your clothes in grocery or garbage bags. It will keep them dry if it rains, and the bags can be used for dirty laundry at the end of your trip.
We Know the Outdoors
The Coleman Company, Inc. has been encouraging people to get outdoors for years. They've been doing so by developing rugged, reliable outdoor products that make being outside that much more enjoyable. From the legendary Coleman lanterns and stoves, to tents, sleeping bags, coolers, backpacks, and grills. You name it, if there's something integral to a great outdoor experience, it probably has the Coleman name on it.