Coleman First Aid Products
Be Prepared for Any Situation
Coleman First Aid Products offer essential first aid supplies for treating minor cuts, scrapes, bites, burns and other compromised skin ailments.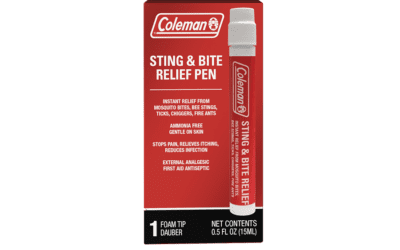 Triple-action formula is effective against pain, itching, and infection Effective on all bites and stings – bees, mosquitoes, ticks, chiggers, and fire ants Convenient sponge dauber applicator External analgesic, first aid antiseptic Relieves itch from Poison Ivy,...
Hiking Safety Tips and Tricks
Place your heaviest items in the middle of your backpack, near your back.
If lightening strikes, head to low spots away from trees and water. Sit on a sleeping bag or backpack to insulate yourself from the ground.
Always pack a signaling device, like a whistle or mirror, in case of emergencies.
Warm cold feet by swinging your leg back and forth quickly to rush blood to your toes.
If a blister develops, cut an adhesive bandage into a donut shape and place it around the blister to provide a buffer for the wound.
Several light, loose fitting layers of clothing are more effective at holding heat than one heavy one.
Always carry enough water. Per day, one person will need at least 3 quarts of drinking water.
Always carry Potable Aqua Water Purification Tablets in your pack in case of an emergency.
Elevate your feet and legs when you take a break to reduce swelling and help prevent aches and pains in your feet.
Safety Tips
Check the weather forecast for the area before you leave and pack accordingly.
Tell someone at home where you'll be and when you plan to be back.
Always check your first aid kit before each trip. Make sure you aren't missing components, and make sure none of the components have expired.
Consider bringing a headlamp instead of a flashlight so you can keep your hands free in an emergency.
Try to drink 3 – 5 quarts of water a day when camping – especially in high altitudes. It will help prevent dehydration and altitude sickness, which can cause headaches and nausea.
Tips for Camping with Kids
Teach children to stand by a nearby tree and stay put if they are lost. This is the easiest way to find them.
Children over 4 can carry some survival items with them including a whistle around their neck. Three blows on a whistle is the standard signal for "I'm lost".
Pack each day of your children's clothing in individual zip lock or grocery bags. That way they can just grab a bag with a full outfit in it, and put their dirty clothes into the bag to avoid mixing things up in the suitcase.
Make sure each child has a flashlight. That prevents fighting over the flashlight, and makes them easy to find at night.
Always plan where to meet if the family gets separated.
RV Camping Tips & Tricks
Put moth balls near the propane lines of your water heater and refrigerator to deter spiders.
Place dryer sheets in cupboards, drawers, closets, storage compartments, etc, before closing up your RV for storage. It will not only help eliminate that musty smell upon re-opening, but also help prevent rodents from making a winter home there.
You can also place trays of charcoal around your RV before closing it up. This will help to absorb that musty smell upon re-opening as well.
Always keep a bag of quarters on hand for unexpected things like parking meters, coin-operated showers, laundry, tolls, etc.
Get a carbon monoxide detector and change the batteries regularly. It is an easy thing to forget.
Don't forget to change the oil in your generator.
Call to check RV size restrictions at campgrounds before you arrive. This is especially important at state & national parks, and at older private campgrounds.
Put screen wire in your rubber bumper plugs to prevent bees from nesting.
Permanently mount levels on the front corners of your camper so you don't have to dig out the level every time you adjust.
Keep a file in your RV containing maps, brochures, reservation information, and anything else you might need for your trip.
We Know the Outdoors
The Coleman Company, Inc. has been encouraging people to get outdoors for years. They've been doing so by developing rugged, reliable outdoor products that make being outside that much more enjoyable. From the legendary Coleman lanterns and stoves, to tents, sleeping bags, coolers, backpacks, and grills. You name it, if there's something integral to a great outdoor experience, it probably has the Coleman name on it.